Diamond Platnumz trouble is to about to end as a new woman has come up claiming he fathered her child and has since neglected her.
The woman only identified as Salaama dumped the infant at Diamond's gate when he was in
Tanzania for a cousin's wedding. It is believed that Salama's main target was Zari, as she sought to gain some mother to mother sympathy from Zari, who has two children with Diamond.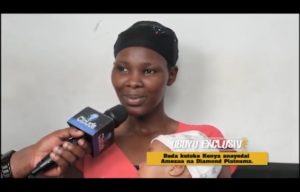 Eyewitnesses say
Residents say that the woman on several occasions came to Diamond's house but he refused to give her attention which led to her eventual action.
They also say that on one occasion he gave her some money to use as transport to meet his manager at their Wasafi records office but she never went.
Her whereabouts are currently unknown after she left the baby behind.
We will keep you posted.